1:000,000 Arizona Unit Maps highlighting High, Medium, and Low concentration areas for Elk.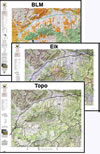 3 Map Hat Trick saves $30. The 3 maps include Land Use, Habitat, and Topo Map for your favorite Unit. The Land Ownership and Habitat Maps are printed on our rugged map fabric. The Topo map is printed on our tear and water-resistant paper to provide a more traditional look and feel.  This trio will help you identify where you CAN hunt, public lands, and where you SHOULD hunt, with concentration data.  The intersection of these two areas is where you should focus.
We project Summer, Winter, and Fall Concentration data over a Topo base to create a informative and colorful concentration map. We've added detailed water tank locations with roads and trails from the USGS 7.5min Quad series. The maps will help you determine where you SHOULD be hunting in your unit. This map should be part of your hunting tool kit! Click on the small unit at left to see a sample map. Move to the bottom of the sample map to choose a unit, then to the bottom right to Add To Cart.